Description
Head of wood carving axe Zvenigorod VII . Head of this axe is made for artistic processing of wood, such as carving sculptures, bowl carving, dish carving and other stuff.
Blade width 125 mm
Head height 145 mm
Sharpening angle - 30 degrees
Hardness - 55-58HRc
Weight - 0,53 kg
The shape of the axe head was designed for carving operations where palm is resting extreamly close to axe head or even on the axe head. This design helps to exelent control of the axe even during long carving sessions. Grip above the head is used for trimming, stripping. This axe model was based on samples from museum "Rubankov" and finalized taking into account the wishes of wood carvers.
The axe head is hand forged from steel 65Г (spring steel) and hardened to 55 - 58 HRc at the cutting edge and along the entire beard, the rest part is normalized to HB280. This hardening allows you to hit the poll without the risk of creating a cracks in the metal.
Head has mounted to handle on 3 wedges, one along the head eye and two in cross section.
Cutting edge is razor sharp and ready to work out of the box. Sharpening angle - 30 degrees.
Axe head for Zvenigorod VII are product of Petrograd toolworks and supplied in a leather case for protection of the cutting edge and easy storage. Made in Saint-Petersburg Russia.
| | |
| --- | --- |
| Head weight: | 0.53 kg |
| Type: | Carving hatchet |
| Steel: | 65Г |
| Hardness: | 55-58HRc |
| Handle lenght: | 350 mm |
| Edge: | Curved |
| Sharpening angle: | 30 degrees |
| Blade lenght: | 125 mm |
Share / Save Link:
Videos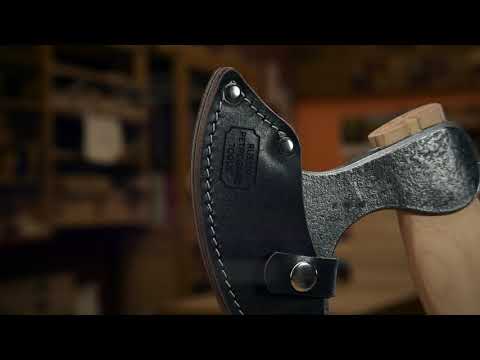 Instructions ()
Нет файлов