How to buy
Dear friends! Welcome to online store of Petrograd toolworks!
We offer a wide assortment of tools for woodworking and carpentry. You can watch them in our catalog. Our e-mail - [email protected].
Where can I see and buy tools live?
See and try our tools in the work you can in shops of our partners. You can also buy tools in our online store.
How to buy in our online store?
All products in our online store are grouped into thematic sections. The site is also equipped search system, which will help you quickly find the right products. Select a product, click«In Cart» item will be added to your order («Cart»). At the top of each site page constantly displayed the number of items in your shopping cart. After adding the product to the basket, you can continue to choose products or go to ordering.
For all products, the current price is indicated. For the same price, goods are sold in our stores and partners stores. The price of items is indicated in rubles, taking into account all taxes. Below is information about discounts and promotions in our store. Unfortunately, the prices of tools may vary. Please treat this with understanding.
To view the contents of your order, click on the caption "Cart". The number of items can be increased or decreased according to your desire, just change the number in the product line and press the "+" button. If you accidentally add an extra item to your cart, you can always remove it with the - button. The total order value is calculated automatically and displayed at the bottom of your product list. The cost may vary depending on the method of payment. Fill out the simple order form. In it you need to specify your contact information, the address for the delivery of the order, choose a payment method. After that, click "Proceed". Your order is issued! By e-mail you will receive a notice of receipt of your order.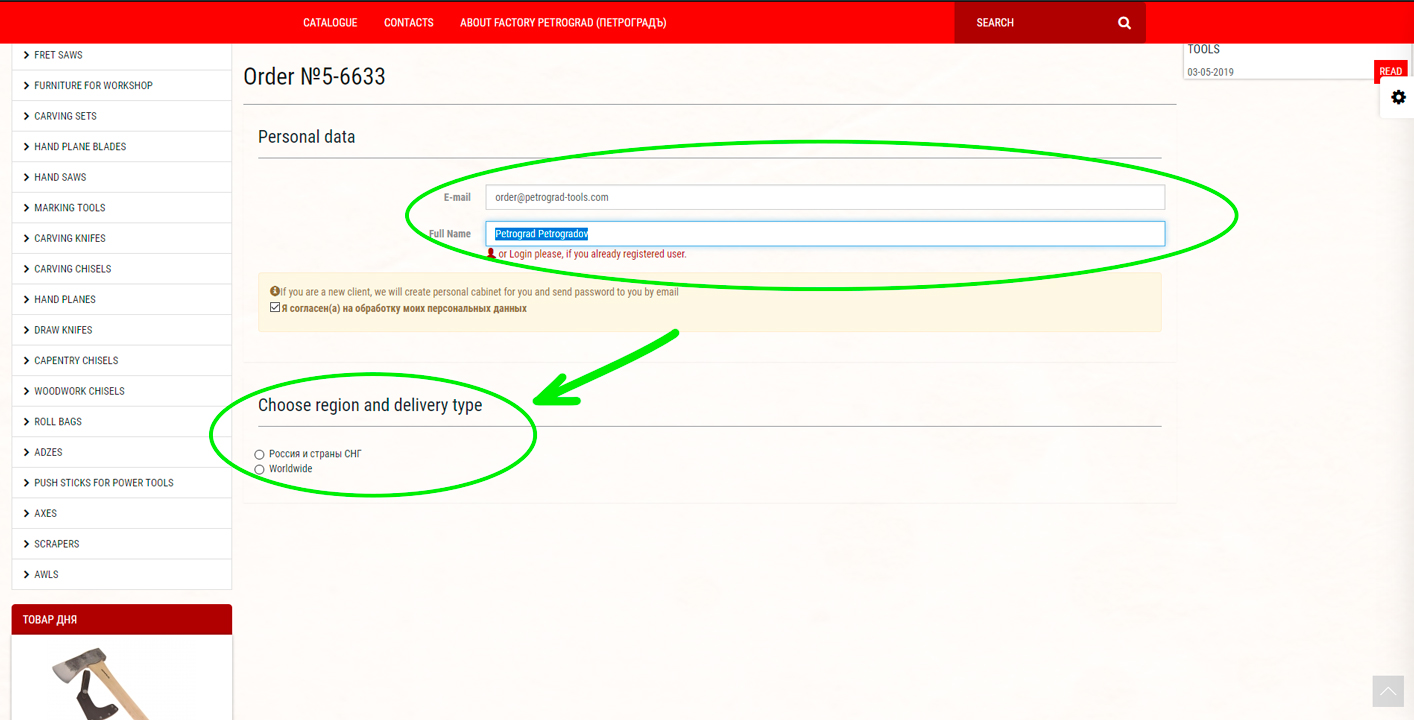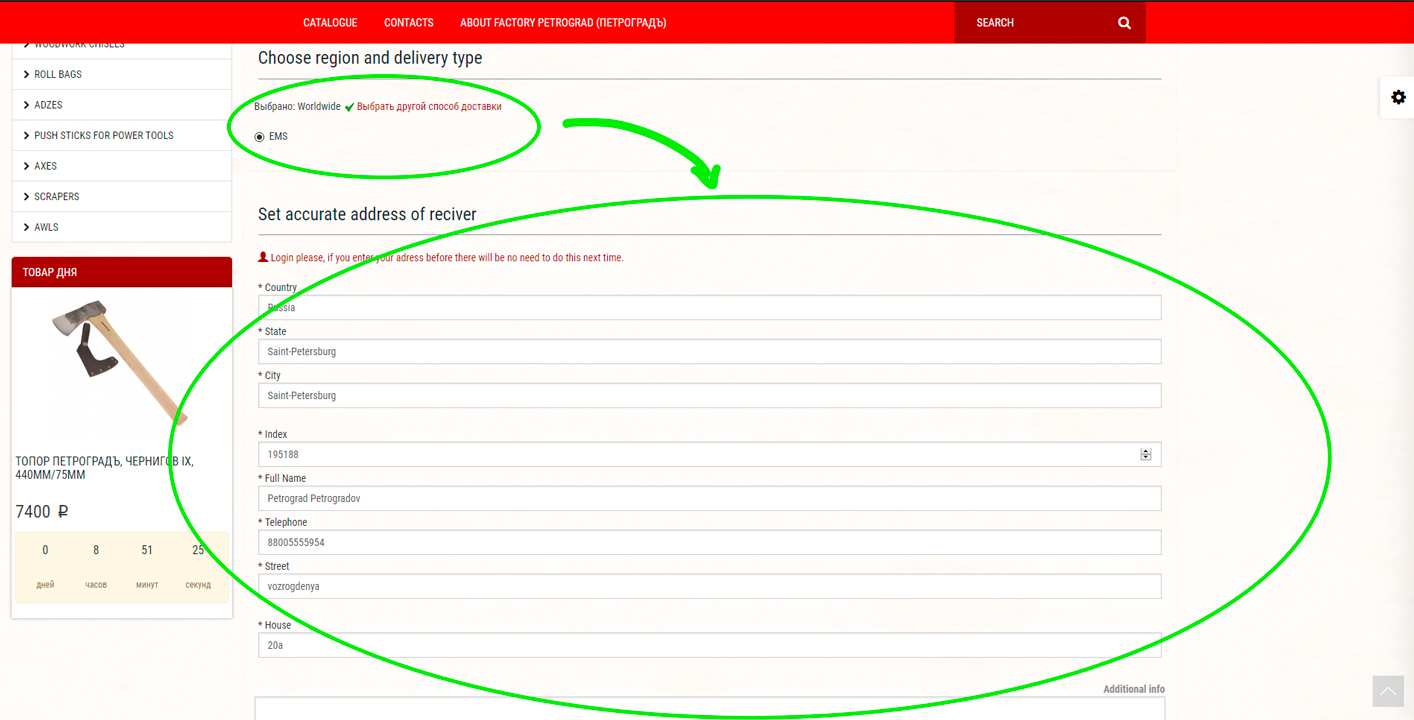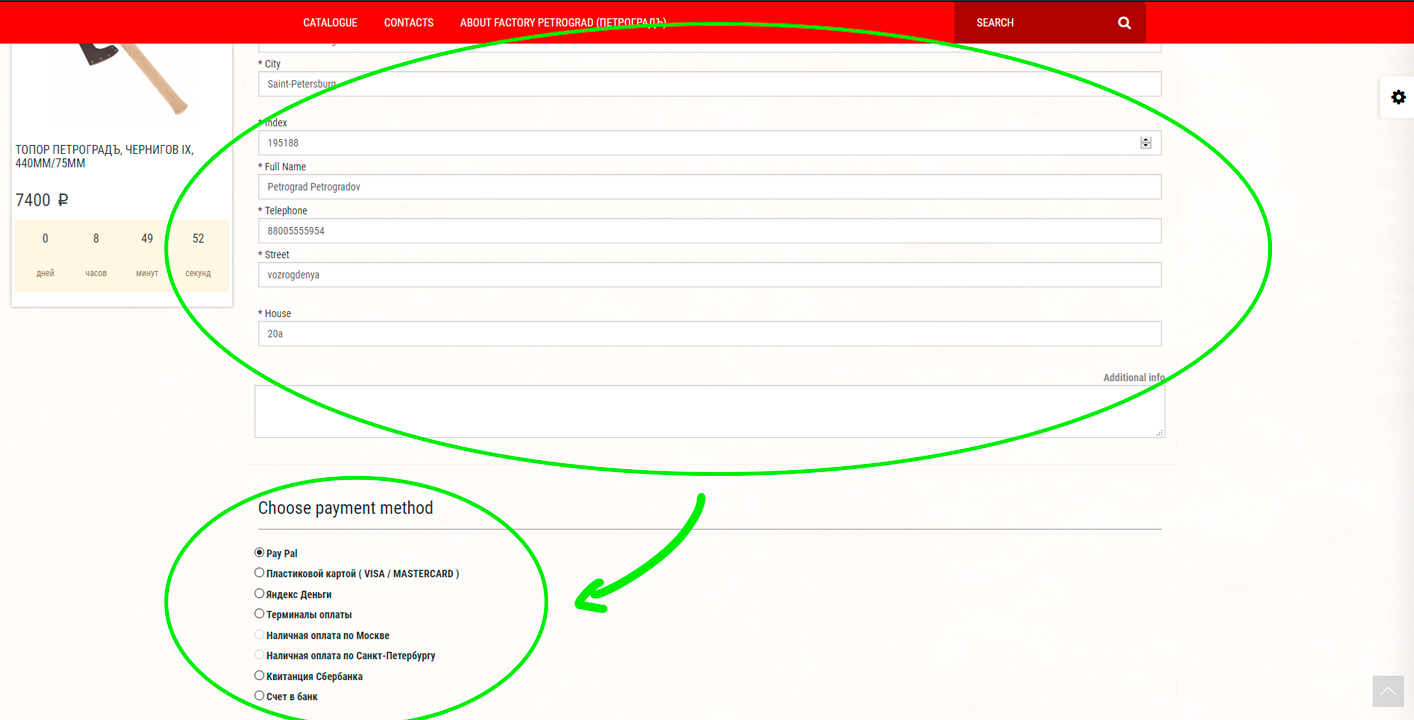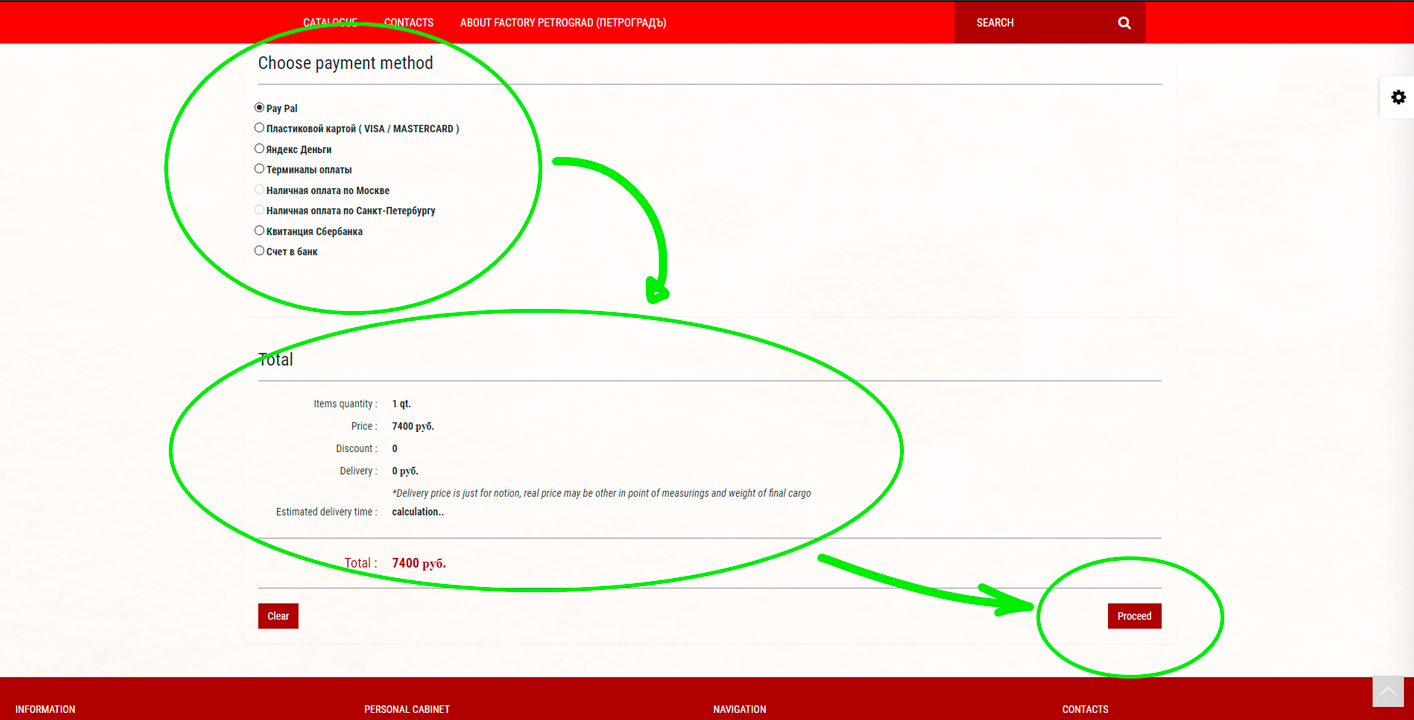 Note! By placing an order in our online store, you still do not pay money, but merely inform us about your intentions. In any case, you have the right to refuse the ordered goods until payment.
4. Awaiting our answer

After some time, our store manager will contact you, agree on the list of goods ordered, the method of payment and the convenient conditions for receiving the order.
5. Payment the order

After receiving the order, we will send you an invoice by fax or e-mail. This invoice you can pay by PayPal or at any branch of Sberbank or any other bank. Legal entities can pay the bill by bank transfer. The invoice is valid 5 working days from the date of issuance.
5.1 Payment via Internet services (Bank Card, Yandex Money, Payment Terminals, WebMoney)
After receiving the order, the form of payment will be sent to your e-mail in the manner chosen by you. Shipment of goods is carried out after receipt of payment on the current account. Details about payment:

Attention may incorrect display of the form in Outlook email clients, on some systems with MacOS, Rambler email client and some other services. We recommend for viewing standard web clients Mail.ru, Yandex, Gmail and others, in modern browsers Chrome, Firefox, Opera, Yandex, IE versions 10 and older, as well as some mobile versions of email clients.
The most common mistake: "The store transmits incorrect data"
The easiest solution is to use the web version of the email client.
Also, some clients may request confirmation of data transfer, for example mail.ru



5.2 Worldwide payment via Internet services (Debit Card, PayPal)
For now we are accept payments by PayPal service around the globe.
And Debit card payment by VISA and MasterCard regarding to regions: Europe, Russia, Asia and countries of CIS
Sending to your a chosen products is carried out within 1-2 days after we receive payment. We will arrange worldwide delivery of the order to any point using mail or other transport companies. After your order has been shipped, a message will be sent to your contact e-mail with a dispatch number to track the location of your package..
6.1 Delivery of order by transport companies

When ordering delivery using transport companies, the cost of delivery includes the collection of cargo by a transport company from our warehouse, the price of this operation varies from the company you choose. More information on the delivery of goods.

6.2 Worldwide Delivery

We provide worldwide delivery via the EMS post services or other companies that can provide delivery to your country.
Price and delivery time are depends of the region and will calculated by managers after ordering and before payment. Feel free to ask us about possible delivery methods to your country.

Due to the current worldwide situation, we are unable to accept bank transfers and ship our instruments outside of Russia.
We regret and hope that these are temporary difficulties, and the conflict will be resolved for the common good.
6.3 Delivery troubles

Attention, our company is not responsible for the work of delivery services. All claims for incompetent delivery work, please send directly to the service responsible for the delivery of the goods. We recommend that you insure the cargo for the time of delivery.
7. Registration on site
Registration on the site is not mandatory, but gives a number of possibilities:
- get an additional discount for regular customers
- track the status of your order
- track the history of your orders
8. Any questions?
Our experts will advise you on all issues related to ordering, payment and delivery by phone: 8-(812)-319-73-90
9. Return goods policy

Products can be returned within 15 days of the original purchase of the product.

To be eligible for a return, please make sure that:
The product was purchased in the last 15 days (*30 days worldwide delivery)
The product is in its original packaging
The product isnt used or damaged
Products that do not meet these criteria will not be considered for return.
Please contact us before you send the product:
In all other situations feel fre to contacts us, each case will be discussed individually.

9.1 Return adress
Send the product with its original packing to:
Saint Petersburg city, Russia
Vozrogdeniya street, house 20A
10. Your opinion about us
It is very important for us to know your opinion about us. This will help us improve our work and make the order of goods more convenient for you. Please send your wishes to us by e-mail - [email protected]
11. Manufacturing companies reserve the right to slightly change the geometric dimensions of tools, as well as make other changes in the design of tools that do not significantly affect their performance.

12. In the Promotions and Discounts section we place the entire instrument on which special prices are set. The number of promotional items is limited and is provided according to availability.

Information about promotions can be obtained in the NEWS section on the right side of the screen.