Tool Cabinet 880*950*400, type 2, plywood
---
---
---
85000
p
(
1307.3
)
out of stock
Description
Tool cabinet 880 * 950 * 400mm, with four doors, model 2.
Convenient, roomy and functional wardrobe. Designed for storing hand carpentry tools. Overall dimensions are 880mm x 950mm x 410mm. The cabinet is equipped with four doors for hanging elements. The doors are hinged on brass. Cabinet body and doors are made of 18mm plywood.
The cabinet is equipped with a planer shelf with ten sections and two drawers.
Planer shelf widths: 78, 74, 74, 74 90, 90, 74, 74, 74 and 78mm.
Drawer sizes: width - 375mm, depth - 250mm, height - 142mm.
The kit also includes additional hanging elements: holder for 14 chisels - 2 pieces, saw pads - 2 pieces, stand for cycles - 1 piece. We recommend installing them on the wall of the cabinet or on the inside of the doors.
The suspension elements are made of beech wood, the coating is oil.
All accessories can be purchased as separate items.
The cabinet is hung on the wall using three slats, this is a reliable way to attach furniture.
Two of the three slats are attached to the back of the cabinet, the third is for wall mounting.
The cabinet material is high quality birch plywood.
Covered with furniture oil.
Production - factory PETROGRAD (Russia).
Share / Save Link:
Videos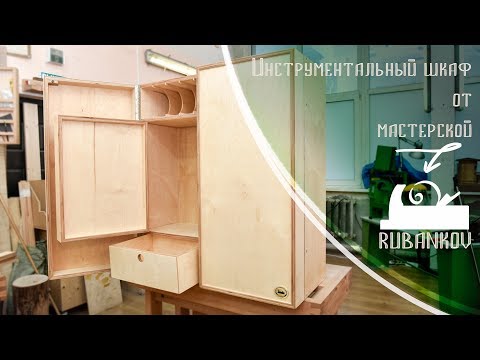 Instructions ()
Нет файлов