Outdoor axe PETROGRAD, model Roslavl, VII, curved handle, 370mm/120mm
---
---
Avg. value 5 (by rates of 1 users)
---
Description
Hand forged outdoor axe Roslavl VII ( rus. Рославль VII ) with curved handle.
Total lenght is 370mm ( 14,57inch )
Height of axe is 140mm ( 5,51inch )
Lenght of cutting edge is 120mm ( 4,72inch )
Total weight of axe is 0,7kg ( ± 0,05kg )

Axe is hand forged from "65Г" steel. Curved cutting edge was straight sharpened.
The axe comes with leather case for protecting cutting edge. Handle lenght is 320mm ( 12,6inch) and it is made from solid mapple with right grain position.
Axe is well balanced and would be a good choice for a lot types of work. It will be great as outdoor axe, for small carpentry and othe woodwork projects. This is kind of universal axe for everyone.
Axe Roslavl VII produced by Petrograd toolworks in Saint-Petersburg Russia.
Share / Save Link:
Видеоматериалы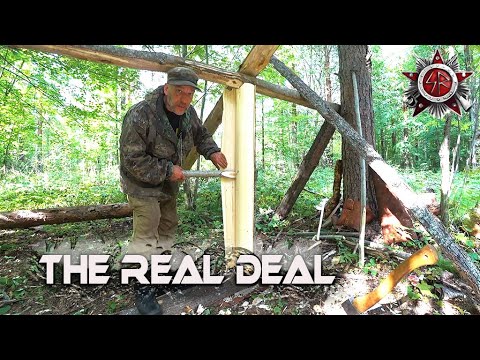 Instructions ()
Нет файлов